Direct Instruction
DIRECT INSTRUCTION is based on the theories of Siegfried Engelmann at the University of Oregon's National Institute for Direct Instruction in Eugene, Oregon. Direct Instruction was created with the belief that all children can learn, but sometimes need extra support. Direct Instruction helps teachers give their students the special guidance they need.
DIRECT INSTRUCTION IS:
Explicit, intensive, teacher directed instruction of information, skills, concepts, and strategies.
BASED ON:
Highly sophisticated analysis of curriculum to identify and develop underlying structures
DIRECT INSTRUCTION MODEL:
Developed by Siegfried Engelmann and Wes Becker, this model used the DISTAR (DISTAR is an acronym for Direct Instruction System for Teaching and Remediation) reading, arithmetic, and language programs. This model assumes that the teacher is responsible for what the children learn. Reading Mastery was the reading program in this model.
The Department of Education's "Project Follow-Through" compared nine diverse, theoretical approaches to teaching reading. For the 14,000 k-3 children tested at more than 170 schools, DI produced the most significant gains in all areas by every means of measurement.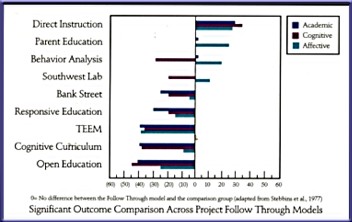 PROJECT FOLLOW THROUGH
Project Follow –Through Conclusions:
Popular educational theories of Piaget and others suggest that children should interact with their environment in a self-directed manner. The teacher's role is to be a facilitator and to provide a responsive environment. In contrast, the successful Direct Instruction Model used thoroughly field-tested curricula that teachers should follow for maximum success. The Follow- Through models that were based on a self-directed, learner approach were at the bottom of academic and affective achievement.
The cognitively oriented approaches produced students who were relatively poor in higher-order thinking skills and models that emphasized improving student's self esteem produced students with the lowest self-esteem.
Project Follow-Through data confirmed that Direct Instruction produced superior outcomes with at-risk students, that are replicable in given settings, and that can be used as a basis for a whole school implementation that involves all students in a single program sequence, and that result in students feeling good about themselves.
Direct Instruction produces positive achievement benefits in all subject areas-reading, language, math, and spelling. It produces the strongest positive self-esteem of the Follow-Through Models.
The success of Direct Instruction in regular, at-risk, and special education classrooms is unparalleled. In the most extensive evaluation of competitive reading programs ever conducted by the Department of Education, Direct Instruction was the only model to produce positive scores in academic, cognitive, and affective outcomes.
The major message of Follow-Through is that there seems to be no magic in education. Only starting at the skill level of the children and carefully building foundations that support higher-order structures achieve gains.
DIRECT INSTRUCTION builds foundations.
DIRECT INSTRUCTION Accelerates Learning for ALL!
Some claim that Direct Instruction works for teaching basic skills, but not for higher-level thinking. Recent research indicates that this is not true. In fact, children with disabilities become higher-level thinkers with direct instruction, sometimes outperforming their general education peers. A number of research studies showing these effects are found in the book, Higher Order Thinking, edited by Carnine and Kame'enui (1992)
——————————————————————————–
Information on Direct Instruction taken directly from:
Reading Mastery Program, Program Overview Guide – SRA (SRA a Division of The McGraw-Hill Company)
Reading Mastery ALL Children WANT to LEARN (WE Believe) Research – SRA (SRA a Division of The McGraw-Hill Company)
The Research Base for Corrective Reading SRA, Bonnie Grossen, Ph.D. University of Oregon
SRA Answers 2001 Catalog, SRA (SRA a Division of The McGraw-Hill Company)
"A recent report sponsored by five leading educational organizations (the American Association of School Administrators, the American Federation of Teachers, the National Education Association of Elementary School Principals, The National Association of Secondary School Principals, and the National Education Association) highlighted Direct Instruction as uniquely effective (AIR, 1999). It was an endorsement based on work done by researchers at the American Institute of Research (AIR); they analyzed 24 school-wide reform models and reported that Direct Instruction was one of only three that could present solid evidence of positive effects on student achievement."
Wisconsin Policy Research Institute Report
March 2001 Volume 14, Number 2
Direct Instruction And The Teaching Of Early Reading
——————————————————————————–
Dansin provides assistance for the following Direct Instruction Programs:
THE REACH SYSTEM (Corrective Reading, Reasoning and Writing, Spelling through Morphographs).
Reading Mastery, Language for Learning, Spelling Mastery,Expressive Writing and the World of Facts.